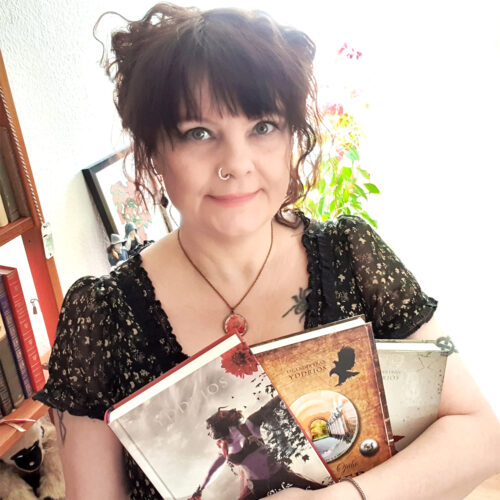 Författare som skriver fantasy på svenska
Lupina Ojala älskar alla bokstäver lika mycket. Hon romandebuterade med fantasyromanen Tårpilens år våren 2015. Sedan dess har ytterligare två böcker om Yddrios utkommit: Toner av guld och Shessandras hjärta. Hennes senaste roman är en spökhistoria i sekelskiftesmiljö med titeln Purpurvinter.
"En del av oss behöver fly till andra världar ibland och få vara med om äventyr där allt är möjligt."

Lupina Ojala
Hon är även en flitig novellskrivare. I sina noveller återvänder hon ofta till den steampunkmiljö som hon byggt kring ett fritt tolkat Göteborg under slutet av 1800-talet. Lupina har medverkat i ett tiotal uppskattade fantastikantologier, bland andra Waiting for the machines to fall asleep (Affront 2015), Stadens väsen (Catoblepas, 2016) och 1873 (Swedish Zombie, 2019).
Förutom författare är hon även verksam som frilansande formgivare samt driver Catoblepas förlag.